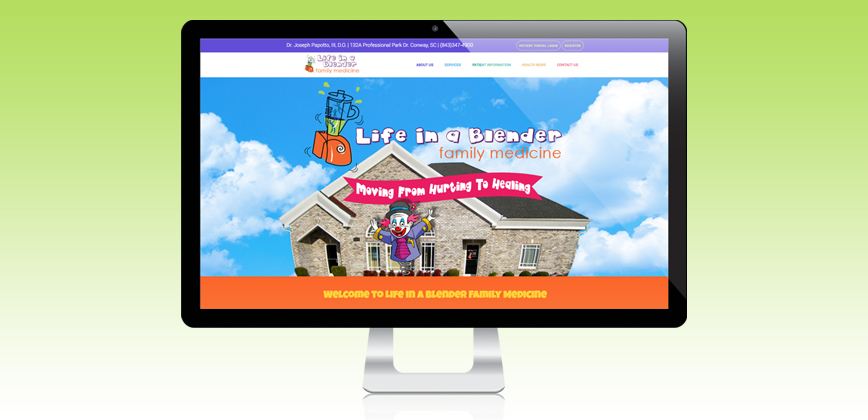 The newly redesigned Life in a Blender Family Medicine website was made to be cheerful, fun, and light-hearted — while also helping you get to know our practice and to provide information about our services. Located in Conway, South Carolina, our medical practice emphasizes total family general health care and preventative health care.
We offer comprehensive health screenings and health maintenance. Our office provides health evaluations and examinations, physicals, diagnostic tests, follow up labs, and subsequent office visits depending on each patient's individual medical needs.
The focus of Life in a Blender's founder, Dr. Joseph Papotto, includes Family Medicine, Internal Medicine, and Orthopedics. Rather than simply treating the symptoms of illness, Dr. Papotto treats people of all ages from 6 to 96 with kindness. The health and happiness of each patient is important to us. Our office maintains a comfortable and friendly atmosphere in which every patient receives personalized attention.
We began working with Chris and Jerri of GINGALLEY Web Design & Promotions in order to have a website that makes it easier for patients and potential patients to find us and learn about our services. While caring for our existing patients, the web design team went to work on developing our new website design.
It is possible to make improvements in one's health with immediate medical care and with each patient making some basic lifestyle changes as well. Prevention and laughter can be the best medicines. Life in a Blender Family Medicine focuses on your overall health and our practice is aimed towards the management and treatment of a range of medical conditions using the latest scientific research available.
Our mission is to help you to improve your health and achieve wellness. Our goal is to make you smile!